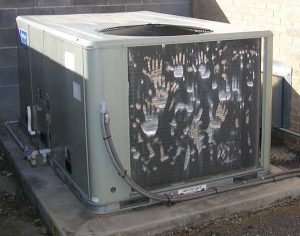 HVAC QUESTION:  What does it mean when my furnace make noises?
A: Furnaces are supposed to make noise; it's the unusual ones that get our attention.  Here are a few of the more common "uncommon noises" we address:
Whining Noises
Whining Noise #1: Typically caused by a blower motor that is damaged or going bad.  Warranty usually covers blower motors depending on the age of the unit, so cost is typically low.  Fixing or replacing can be done by our mechanics with most parts on hand in our work trucks.
Whining Noise #2: The blower belt may be frayed or loose and cause an unusual whining noise.  This is typically a fast fix; again we carry a plethora of parts and tools in our work trucks.  Slipping is an easy fix and a replacement is fast too.
Whining Noise #3: A shaft in your unit may need lubrication.
Regardless of why your furnace is whining, call us ASAP to avoid a more serious repair.
Loud Bang
Loud Bang #1: The metal ducts may expand and contract when the furnace starts causing a "bang-like" noise.  It may mean that your duct returns are not the appropriate size or the ducts may be too delicate.
Loud Band #2: A buildup of dirt and debris on your furnace will slow the igniting and a gas buildup occurs creating a mini explosion (loud bang).  Over time this could seriously damage or crack the heat exchanger.  This should be addressed immediately
Metal 2 Metal
Metal 2 Metal means there is something broken or a loose part is rubbing against another part of your furnace. Best case scenario: this is a blower wheel and can be repaired easily if addresses early, prior to further damage.
SOLUTION:
Unusual furnace noises should always be a big red flag that your furnace is in need of servicing.  We can come on your call and address any issue, but the best solution is our Energy Saving Agreement Program, where we regularly inspect, test and treat your furnace.
Wes Stevens
Air Dynamics MS, LLC
704-664-2665 (COOL)
704-664-4328 (HEAT)