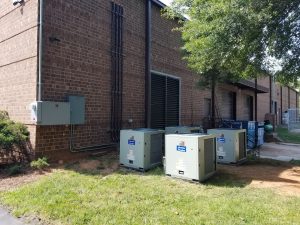 All of us here at Air Dynamics Heating and Air hope that everyone was able to enjoy our first snow of the season this past weekend. Also, that you all stayed nice and warm! It sure was beautiful seeing all the snow fall and admire how it collects on all the tree limbs. Winter is just around the corner and along with its beauty also comes some really cold weather. If you haven't already checked to make sure your heat pump is in good working order then now would be a good time to do so.
Is it time to change your heat pump?
There are a few signs to look out for when questioning if your heat pump is needing replaced.
1. Is it needing a lot of repairs? Obviously the occasional breakdown is not something to be overly concerned about. After a heat pump repair it should be fine from then out. But if breakdowns are becoming a normal thing then that's when you should start looking to replace it.
2. Do you hear unusual noises? There are a few reasons you might be hearing noises; however, these machines are designed to run smoothly. Hearing noises could be because of components starting to wear down. There are things like loose vents, dirty filters, and faulty duck work that would first have to be eliminated from this equation but if it turns out to be the heat pump then it would be a good idea to replace it as a long term solution.
3. Is you energy bill increasing? If you notice you energy bill is rising but you're not running any more appliances then usual then your heat pump is always suspect #1. Give us a call and we can come run a maintenance check to confirm if it's the heat pump.
4. Temperature Inconsistencies? Are you noticing that certain parts of your house is hotter or colder then other areas? This is a sign that something is up with your HVAC system. A maintenance check from us will help figure out the answer here.
5. Equipment Age. It is recommended to replace your heat pumps every 10 to 15 years.
If you think you're having heat pump issues or if your thinking about replacing it, give us a call and we would be happy to help get you in the right direction! 704-664-4328