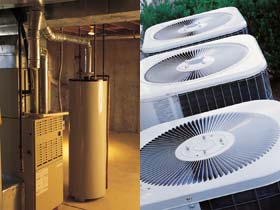 How much does a new HVAC Unit Cost?
There are numerous variables that determine the cost of a new heating and cooling system, but before we delve into replacement, let's address a few items:
The HVAC unit in your home is the most expensive of all appliances you own.
Anyone who contracts to install, alter or restore plumbing, heating (includes air conditioning) or fire sprinkler systems must have a license from the: State Board of Examiners of Plumbing, Heating and Fire Sprinkler Contractors
Low cost HVAC installation quotes may mean shortcuts that may incur issues that possibly cost more later on.
It is physically impossible to install or replace any HVAC unit in a few hours!
Always get a second opinion.
Does your system REALLY NEED REPLACING?  HVAC system replacements generally have:
Blown compressor
It's inefficient (very old)
Too expensive to repair
A second or even a third opinion will provide you with enough information
to make an educated decision.
Most units have the same safety features installed by the manufacturer.  Regardless of the brand you choose, it should last anywhere from 15 to 20 years if maintained correctly.  The key to good quality heating and air is the installation, not the brand.  Don't get sold on brand as much as experience of the installer, that choice can save you lots of money over the life of the unit.
Efficiency is a big buzz word; saving money on your monthly electric bill is important.  Simply installing a new unit may not get you the energy savings you expect.  There are factors that affect your HVAC's impact on your energy bill:
Leaky or improperly sized ductwork waste your heating and cooling dollars as well as causing your system to overwork.
Correctly sized sheet metal fittings that connect to the physical unit are important.
A programmable thermostat is a big asset towards an energy efficient home.
So, how much does a new HVAC unit cost?
That depends on your needs!
Call us at Air Dynamics and I promise we will help you determine what's the most efficient for your home and budget, without any sales pressure or upselling of products.
Wes Stevens
Air Dynamics MS, LLC
704-664-2665 (COOL)
704-664-4328 (HEAT)