Obviously, we get asked a lot of questions; from our clients, people that call our office, comments on social media and just HVAC questions in general.  I am starting a section on our blog to address some of those questions as they are asked and from what we've been asked previously.  I hope you find this new blog category educational, it's simply called HVAC Q&A.
Today's HVAC Question: How often should I change my furnace filter?
A:  There really is no exact date or time stamp to put on a furnace filter, there are simply too many variables:
Quality of the filter
How many hours has the furnace operated since the last filter change?
Are there other air filtering systems in the home?
Are there pets in the home?
+++++++++++++++++
The quality of the filter has an impact on the life "you get what you pay for" applies here. Higher quality filters cost more, but do a better job and may require changing more frequently.  Lower end filters will not collect as much dust particles (which can decrease the efficiency & life of your furnace).
This is simple; some people keep their homes "

toasty

" while others are happily comfortable at 65 degrees, so the amount of time used is a variable. The more often your furnace runs, the more air it is filtering and the more often the filter needs changing.
People with allergies often purchase air filters for their home, these reduce the dust particles in the air and thus cleaner air enters the furnace filter, and the filter lasts longer.
I'm a dog lover and understand how important pets are. Pet dander greatly increases the work flow of a furnace filter and will require more frequent replacement.
SOLUTION:  Purchase quality furnace filters.  Check your furnace filter every month and record the process.  After a few times you will know how often your furnace filter needs changed.
ALSO:  We recommend you purchase higher quality furnace filters, like the Rheem Standard Pleated filter.  It provides protection against many airborne particles that can aggravate seasonal allergies and cause unhealthy environments.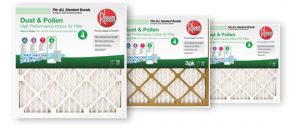 #FurnaceFilters
Wes Stevens
Air Dynamics MS, LLC
704-664-2665 (COOL)
704-664-4328 (HEAT)