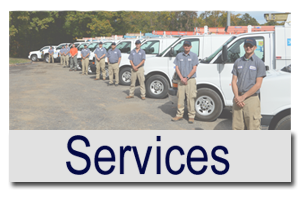 When your heating and cooling system needs repair and you choose Air Dynamics, we understand that you are placing confidence in us to properly repair your equipment. Our certified technicians are trained and trusted individuals who will take their time to diagnose the problem and will take you step by step through any procedure that needs to be done.  The Air Dynamics Guarantee is an assurance that you will receive the best quality workmanship we can offer from the office staff as well as the technicians. When you call, there is NO ANSWERING SERVICE, someone ALWAYS answers the phone. Our hours of operation are Monday through Saturday 8 AM- 8PM. Sundays are kept open for emergencies.
We don't charge by the hour; we charge by the job. For a diagnostic fee of $85, we analyze your system and give you a quote for the recommended service or repair based on a flat-rate pricing system. The flat-rate pricing for both residential and commercial repairs allows us to provide you with a quote on the spot for the cost of your repair based on the established diagnosis. Then you have the option to accept or decline the job before we start the repair.
Air Dynamics not only offers competitive rates through the flat-rate pricing system, with our  Energy Savings Program you can save 15% on all parts and repairs and $15 on your standard residential diagnostic fees. Programs are available for both residential and commercial applications.
We service ALL brands and types of HVAC units for residential and commercial properties:
Heat Pumps and Air Handlers
Gas Furnaces (propane or natural gas)
Air Conditioning Units
Dual Fuel Systems-Heat Pump with gas furnace heat as your backup.
Gas Package Units- Straight gas or propane heat
Hybrid Units
Packaged Heat Pumps
Ductless Systems
Please call for Service  (all brands), Maintenance  (all brands), or Sales (free quotes on system replacements).
704-664-COOL (2665)        704-664-HEAT (4328)
Business Hours: 8am-8pm Mon-Sat     After Hours appointments available.