Winter is almost here. Has your HVAC been checked? It's a good idea to have your HVAC system checked in the spring and the fall. We offer bi-annual checks to keep your system working at peak efficiency.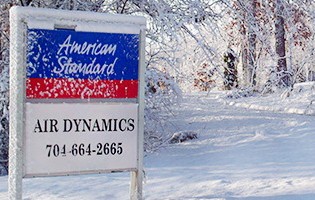 These bi-annual checks may include (but not limited to):
Inspection of all filters; Air filters clean the air returning to your HVAC system and are the easiest piece to maintain. It is best to vacuum or rinse the factory filter and replace disposable air filters once a month to keep them clean and help the system work the best it can.
Checking thermostat operation; This is completed by making sure that all signals from the thermostat are tested for proper execution by the HVAC system.
Checking all safety controls; Safety controls include: float switches, relays and more. These are checked, and if needed may be adjusted.
Checking amperage and voltage on all motors; Motors are checked to see if they are drawing too much or too little amperage, which may cause problems with the HVAC system running smoothly. After everything is checked, the technician may make adjustments as needed.
Checking refrigerant charge; Low refrigerant charges place excessive strain on the compressor. The technician verifies this using a set of system pressure gauges and adjusts the refrigerant level to a proper level.
Cleaning condenser coil; If the condenser coils are excessively dirty or the fins are bent it will block proper airflow. This causes the system to work harder and can possibly drive up electric bills.
Inspecting all electrical connections; Faulty electrical connections may reduce the life of major components and present a safety hazard. The technician checks these connections, and may adjust as needed.
Inspecting duct system and air flow; The duct system is checked for any obstructions and other possible deterrents. The technician monitors the airflow to make sure everything is working properly.
Flushing drain lines; As the HVAC system dehumidifies they remove moisture from the air and drain it through a condensate drain. Over time, this drain becomes clogged with dirt and debris and needs to be cleaned.

This link will give you more details about what we offer. HVAC Maintenance

If you need help, CALL US 704-664-4328 (HEAT) Give us a call and let us make you comfortable.
Wes Stevens
Air Dynamics MS, LLC
704-664-2665 (COOL)
704-664-4328 (HEAT)
Air Dynamics MS, LLC
Licensed, Insured & Bonded
Our service area includes, Lake Norman Area, Mooresville, Charlotte, Huntersville, Cornelius, Davidson, Sherrills Ford, Denver, Troutman, Statesville, Concord, and Kannapolis. If your city or town is not listed, call us anyway to see if we can help.